EQUAL
OPPORTUNITY

WOMAN
ENGINEER

MINORITY
ENGINEER

CAREERS &
the disABLED

WORKFORCE
DIVERSITY

HISPANIC
CAREER WORLD

AFRICAN-AMERICAN

CAREER WORLD

Woman Engineer Magazine, launched in 1979, is a career-guidance and recruitment magazine offered at no charge to qualified women engineering, computer science and information technology students & professionals seeking employment and advancement opportunities in their careers.

This magazine reaches students and professional women engineers nationwide at their home addresses, colleges and universities, and chapters of student and professional organizations.

If you are a woman engineering student or professional, Woman Engineer is available to you FREE!
Subscribe Now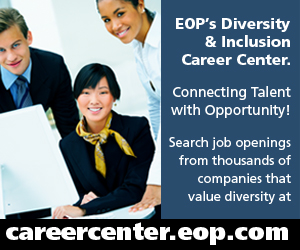 WOMAN ENGINEER

Featured Articles (Current Issue)
» Read Digital Edition
» Subscription Information
» Reader Survey
» Companies Actively Recruiting
Working Smarter, Working Faster
I had this dream for a long time that I was going to be an astronomer," says Janet Campbell, who is a software developer for Epic, a leading electronic medical records company with headquarters in Verona, WI. But, when she got to Carleton College, a liberal arts college in Minnesota, she took an introduction to computer science course, found it easy, told herself, "I could do this as a career," and decided to major in computer science instead. read more

Johnson Austin Named Penn State Outstanding Engineering Alumna
Pennsylvania State University College of Engineering has named Saundra Johnson Austin, senior vice president for operations at The National Action Council for Minorities in Engineering, Inc. (NACME), an Outstanding Engineering Alumna. read more

Meeting Challenges At Phillips 66
In her role as project integration manager at Houston-headquartered Phillips 66 (www.phillips66.com), Ashley Nelson is tasked with bringing together different business units with varying objectives, as well as different people, personalities, and experience levels. read more

Employers Who Make A Difference - IBM
Headquartered in Armonk, NY, IBM is a globally integrated technology and consulting company with operations in more than 170 countries. IBM is focused on five growth initiatives - cloud, big data and analytics, mobile, social business, and security. read more
All Content ©1996-2015 EOP, Inc.
Website by: