EQUAL
OPPORTUNITY

WOMAN
ENGINEER

MINORITY
ENGINEER

CAREERS &
the disABLED

WORKFORCE
DIVERSITY

HISPANIC
CAREER WORLD

AFRICAN-AMERICAN

CAREER WORLD

Woman Engineer Magazine, launched in 1979, is a career-guidance and recruitment magazine offered at no charge to qualified women engineering, computer science and information technology students & professionals seeking employment and advancement opportunities in their careers.

This magazine reaches students and professional women engineers nationwide at their home addresses, colleges and universities, and chapters of student and professional organizations.

If you are a woman engineering student or professional, Woman Engineer is available to you FREE!
Subscribe Now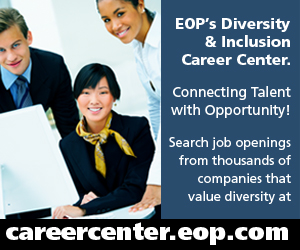 WOMAN ENGINEER

Featured Articles (Current Issue)
» Read Digital Edition
» Subscription Information
» Reader Survey
» Companies Actively Recruiting
Biomed & Biotech: Great Drugs, Great Engineers
Biomedical and biotechnology engineers are nano-locksmiths. They turn the tiny tumblers inside our medical conundrums and fashion the keys to better health. Through their mettle and the metal of their minds, they ease suffering, rejuvenate, and lend precious years to mothers, fathers, grandparents, and children. Meet some of the women engineers who configure the chemical cures and place these healing tools into doctors' hands. read more

Scholarship Honors ASHRAE's First Female President
Creating a $5,000 scholarship created in the memory of its former president, the American Society of Heating, Refrigerating and Air-Conditioning Engineers (ASHRAE) announced the Lynn G. Bellenger Scholarship for the 2013-2014 school year to be awarded to a deserving fe male undergraduate engineering student pursuing a degree in a field related to heating, refrigeration and air-conditioning. read more

Five Ways To Increase Your Executive Appeal
The Staying ahead in this job market is not that difficult, says Wayne Richardon, executive career strategist with ResumesFor Leaders.com. read more

No Equal Pay For Most Working Women
While women who are chemical engineers receive pay equity, for other working women the news is not so positive. Figures released by the U.S. Census Bureau detailing 2012 earnings demonstrate that real earnings have failed to grow, and the gender wage gap is at the same level as 2002. read more
All Content ©1996-2012 EOP, Inc.
Website by: