EQUAL
OPPORTUNITY

WOMAN
ENGINEER

MINORITY
ENGINEER

CAREERS &
the disABLED

WORKFORCE
DIVERSITY

HISPANIC
CAREER WORLD

AFRICAN-AMERICAN

CAREER WORLD

Woman Engineer Magazine, launched in 1979, is a career-guidance and recruitment magazine offered at no charge to qualified women engineering, computer science and information technology students & professionals seeking employment and advancement opportunities in their careers.

This magazine reaches students and professional women engineers nationwide at their home addresses, colleges and universities, and chapters of student and professional organizations.

If you are a woman engineering student or professional, Woman Engineer is available to you FREE!
Subscribe Now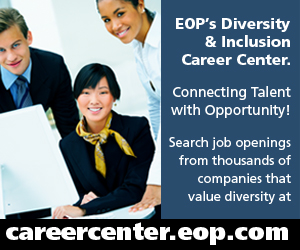 WOMAN ENGINEER

Featured Articles (Current Issue)
» Read Digital Edition
» Subscription Information
» Reader Survey
» Companies Actively Recruiting
23rd Annual Reader Survey
Woman Engineer magazine readers from private-sector companies and government agencies, as well as colleges and universities, throughout the country received in the mail this year's survey. Of the respondents, this year 13.3% were students, compared with 7.4% last year. read more

Manufacturing Institute Honors Toyota's Millie Marshall And Susan Elkington
The Manufacturing Institute awarded Toyota executives Millie Marshall and Susan Elkington with the Women in Manufacturing STEP (Science, Technology, Engineering and Production) Award. read more

Tackling the Gender Gap In The Oil and Gas Industry
The global focus on attracting more women into the oil and gas industry is not just about creating a more diverse workforce, it is of vital importance if we are to continue to serve the world's growing energy needs. read more

Taking A Shine To The Utilities/Energy Sector
Elaine Chasse says she always had an interest in road and bridge construction, so, when it was time for her to choose a major at Rutgers University, her parents suggested she look into civil engineering. read more
All Content ©1996-2012 EOP, Inc.
Website by: