EQUAL
OPPORTUNITY

WOMAN
ENGINEER

MINORITY
ENGINEER

CAREERS &
the disABLED

WORKFORCE
DIVERSITY

HISPANIC
CAREER WORLD

AFRICAN-AMERICAN

CAREER WORLD

Woman Engineer Magazine, launched in 1979, is a career-guidance and recruitment magazine offered at no charge to qualified women engineering, computer science and information technology students & professionals seeking employment and advancement opportunities in their careers.

This magazine reaches students and professional women engineers nationwide at their home addresses, colleges and universities, and chapters of student and professional organizations.

If you are a woman engineering student or professional, Woman Engineer is available to you FREE!
Subscribe Now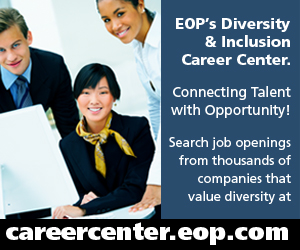 WOMAN ENGINEER

Featured Articles (Current Issue)
» Read Digital Edition
» Subscription Information
» Reader Survey
» Companies Actively Recruiting
Biomed & Bioengineering
This field is as exciting as it is important, with the companies involved challenged to find solutions to medical issues on an ongoing basis. read more

Manufacturing Institute Honors Toyota's Millie Marshall And Susan Elkington
The Manufacturing Institute awarded Toyota executives Millie Marshall and Susan Elkington with the Women in Manufacturing STEP (Science, Technology, Engineering and Production) Award. read more

Tackling the Gender Gap In The Oil and Gas Industry
The global focus on attracting more women into the oil and gas industry is not just about creating a more diverse workforce, it is of vital importance if we are to continue to serve the world's growing energy needs. read more

EngineerJobs.com Releases Findings On Hiring Across The U.S.
A new report released by EngineerJobs.com, a job site for engineers in the U.S. and Canada, shows that engineers remain in high demand in California, Texas, and New York, while certain demographic markets are hot beds for engineers in specific disciplines. read more
All Content ©1996-2012 EOP, Inc.
Website by: